Welcome to GameWholeSaler!
A web gamewholesaler for companies, organizations and clubs. You must register an account to log in and see the prices. After we have approved (within 6 hours) you can log in using your email address and password and thus be able to order, access other services, including review of past orders, invoice printing and also editing of your account information.
Backgammon Combination Sets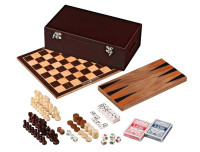 Multi-game or Combo?
It is simply about a box or cassette containing many games. The most common multi-game, usually called "Three in one", contains Backgammon, Chess and Dam, which are the oldest and most popular games throughout the ages.
---
Showing 1 to 10 of 10 (1 Pages)